Whether at public offices, on buses and trains, in hospitals or with the emergency services: Those who work in the service of society are increasingly becoming victims of violence. Our large-scale awareness campaign for the German Trade Union Confederation counters this.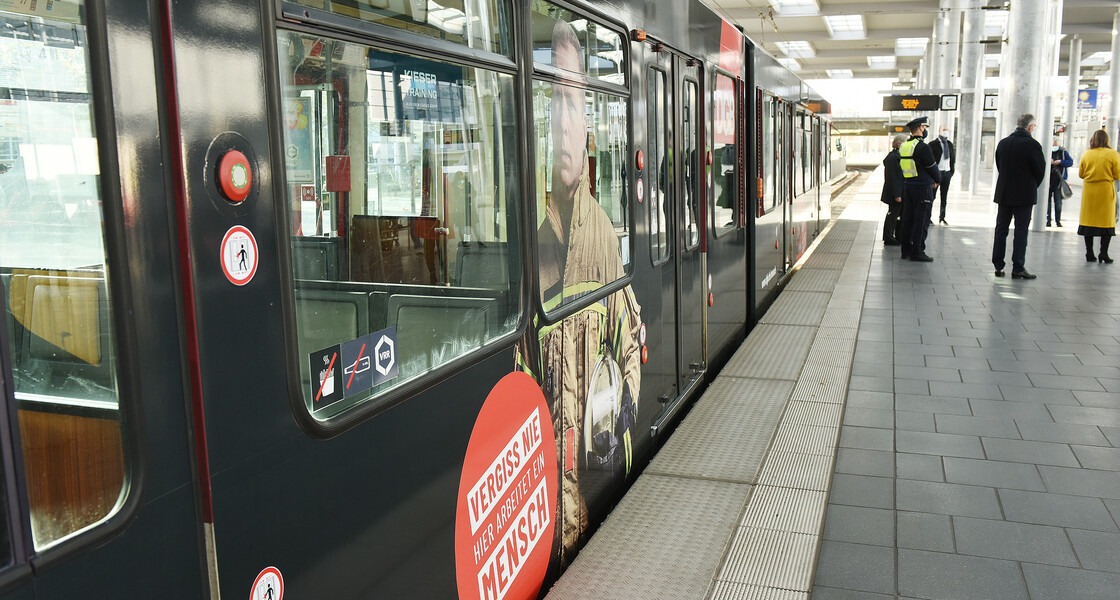 Sie setzen sich auf Ämtern, in Bussen und Bahnen, in Krankenhäusern oder bei den Rettungskräften für uns ein - und erhalten zum Dank Beleidigungen, Drohungen oder Schläge: Immer häufiger werden Menschen, die im Dienst der Gesellschaft arbeiten, Opfer von Gewalt. Mit einer großangelegten Initiative stellt sich der Deutsche Gewerkschaftsbund dem nun entgegen.
Im Mittelpunkt stehen die Menschen.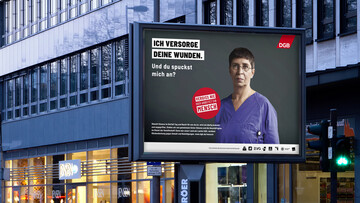 "Ich bringe dich sicher ans Ziel - und du nennst mich Wichser?" Herzstück der Initiative ist eine deutschlandweite Plakatkampagne, die Betrachter*innen durch schonungslose Testimonials wie diesem mit der Arbeitsrealität vieler Beschäftigten des öffentlichen Dienstes konfrontiert. Dabei stehen die Motive ganz im Zeichen des Claims der Initiative, "Vergiss nie, hier arbeitet ein Mensch", und stellen die Betroffenen nicht als Opfer dar, sondern rücken mit großflächigen Portraits die Menschen und ihren Dienst an der Gesellschaft in den Mittelpunkt.
Videoportraits geben den Betroffenen eine Stimme.
Zu Wort kommen die Beschäftigten nicht nur auf Citylights, Litfaßsäulen und sogar Straßenbahnwagons, sondern auch auf der Website der Initiative: Dort geben Videoportraits und ein Trailer, der beim Aufrufen der Website direkt in die Thematik einführt, den Betroffenen eine Stimme. Zusätzlich bereiten Infografiken die Ergebnisse aus zwei Studien des DGB und des Bundesministerium des Inneren auf – und untermauern die persönlichen Geschichten der Beschäftigten so mit Zahlen.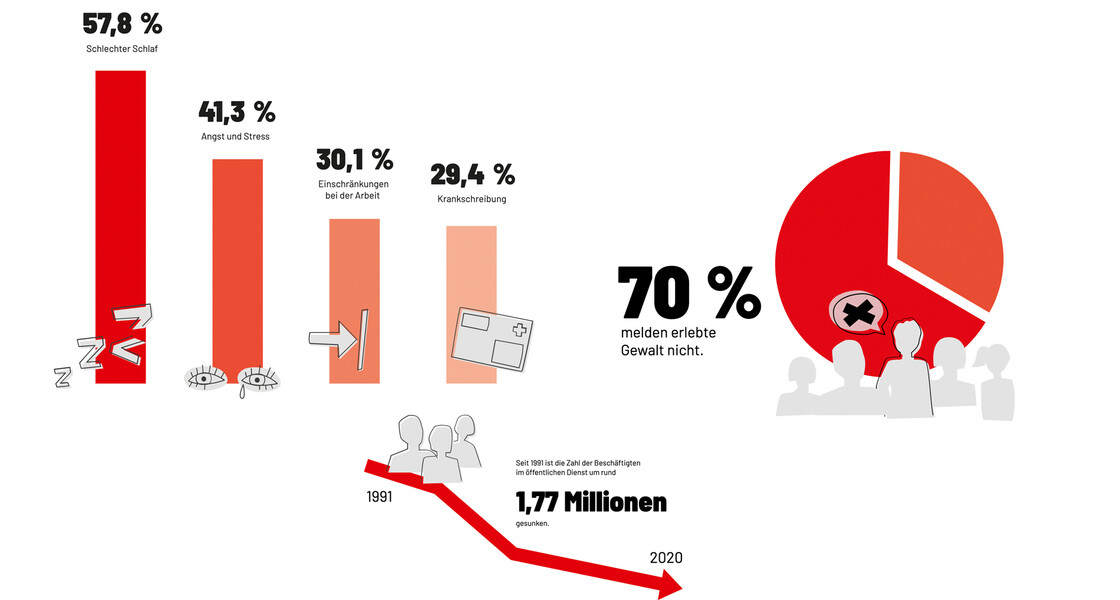 Awareness für das Problem, Empowerment für die Betroffenen.
Doch die Initiative will nicht nur Awareness für Gewalt schaffen, sondern vielmehr die, die von ihr betroffen sind, empowern und stärken. Der Initiativen-Website steht daher ein weiteres Angebot zur Seite, das die Mitglieder des DGB mit Materialien wie einem Argumentarium, Vorlagen zu Dienstvereinbarungen und Aktionsideen versorgt. Und auch wenn Betroffene eine eigene Idee auf die Beine stellen wollen, finden sie Unterstützung: Gemeinsam mit dem DGB haben wir eigens dafür einen Redaktions- und Design-Support eingerichtet.