The Central Welfare Board of Jews in Germany
Relaunch of the website, style guide and logo development
Promoting young talent, humanitarian aid, political education and research: the fields of activity of the Central Welfare Board of Jews in Germany are diverse. Wegewerk was commissioned to develop a new website, a style guide and a logo for the association.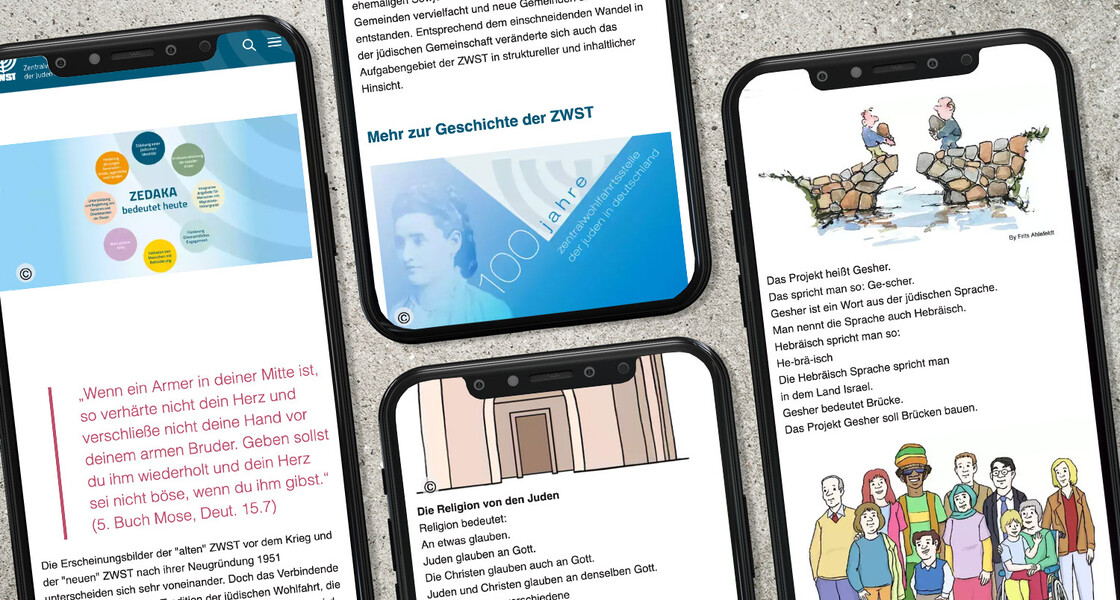 The Central Welfare Board of Jews in Germany (ZWST) is the umbrella organisation representing Jewish communities and state associations in the field of Jewish social work. wegewerk has relaunched the website of the association and added a detailed style guide to the corporate design.
Well navigable and accessible.
The new website is particularly convincing due to its new structure with clever menu navigation: users can now find the content they are looking for faster and more intuitively. This avoids frustration and reduces the bounce rate. For example, the main menu items of the ZWST are structured according to target groups and have a hover effect that displays additional information as soon as the mouse is hovered over it. Great for the diverse clientele of the welfare office: the most important topics are available in sign language as well as in easy-to-understand language and in parts in English and Russian.
A style guide for more consistent external communications.
Always in tune with the times and yet committed to tradition - that is Jewish Welfare today. These characteristics are reflected in every element of the new corporate design that we developed for the ZSWT. However, we always kept in mind the special needs of the many senior citizens who come together at the ZSWT. A new corporate font and easily recognisable design elements guarantee good readability and clarity.
We also designed a new logo for the "Kurheim Beni Bloch", a spa facility of the ZWST. The new word-image mark is based on a brass image of its patron saint on the grounds of the facility, but gives the whole thing a modern edge.