SAVE BEES AND FARMERS ECI
Platform for a European Citizen Initiative
"Save bees and farmers!" rallies support for more sustainable agriculture. wegewerk built a sleek multilingual petition website for the European Citizens' Initiative.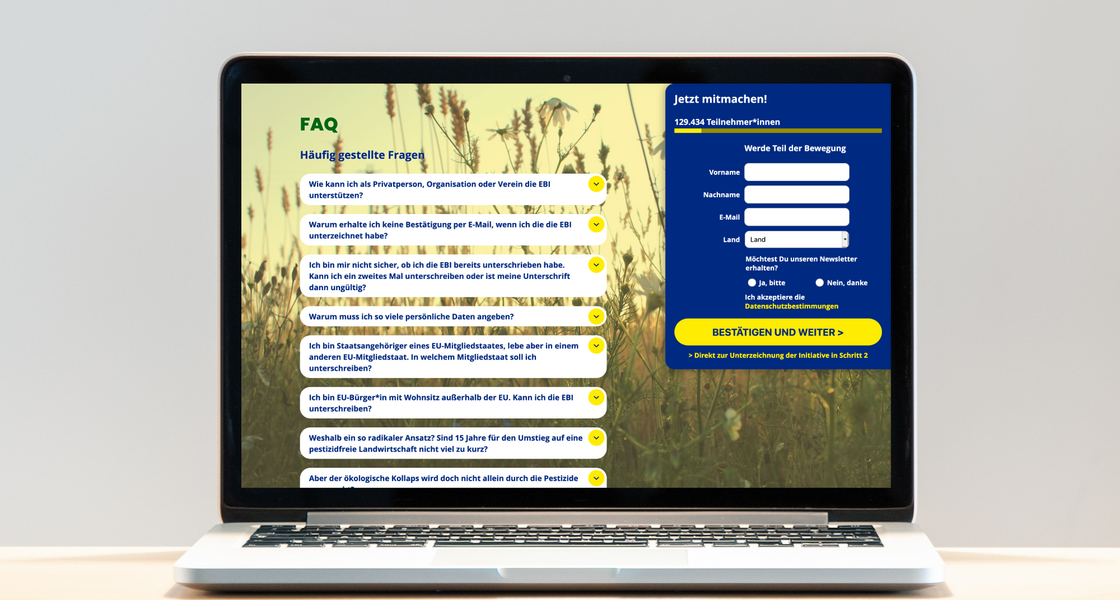 "Save bees and farmers! is a European citizens' initiative that campaigns for sustainable agriculture. Specifically, the initiative calls for the abandonment of synthetic pesticides and the promotion of biodiversity in agriculture. In addition, it supports farmers in switching to sustainable agriculture. In the meantime, numerous prominent supporters from many different European countries have also come out in support of the initiative.
wegewerk conceived, designed and finally implemented a clear and functional website for "Save bees and farmers!" that meets all the requirements of the initiative.
The heart of the website is a participation form that is always present in the margin and can be used on all subpages. The participation form is a third-party embedding for which we cooperated with the petition service provider PoliCAT. The embedding of PolitiCAT ensures that the data entered by users is handled securely in accordance with European standards. This is an area in which we were able to advise the initiative extensively beforehand.
The website is characterised by the well-structured and at the same time diversely designed homepage with numerous call-to-action buttons. The simple and functional navigation also has a news section, a download area and a donation form.