WordPress vs. TYPO3 - which is the better non-profit CMS?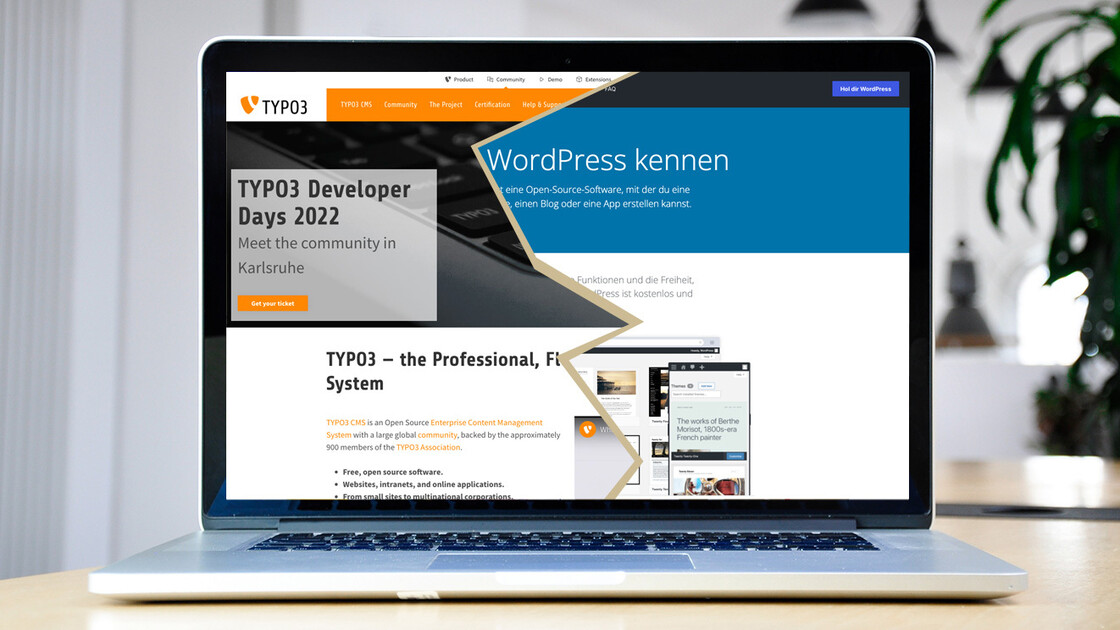 Choosing a content management system is a bit like building a house - once you move in, you won't move out again so quickly. Finding out shortly after moving in that important functions are missing, which are then difficult to retrofit, or that the size is not sufficient for the number of visitors, is "annoying" to say the least. To make sure this doesn't happen to you, in this article we compare two popular solutions in the non-profit environment: WordPress vs. TYPO3 - which CMS is better?
A content management system (CMS) is used to manage content of one or more web sites. The trick: The system divides the website, app or intranet into three logically separate units: code, presentation and actual content. In this way, all units can be manipulated independently of each other. Once the website is up and running, editors can easily create new articles without having to struggle with writing code or running the risk of tearing down the layout concept with one wrong click.
What types of CMS are there?
Which CMS is most suitable always depends on the intended use. There are very powerful systems called Enterprise CMS (ECMS), which cover almost all wishes regarding the range of functions, but are usually complex to set up and therefore more expensive to purchase. There are systems that are optimised for a specific use case, but are not very flexible when it comes to deviating from the intended use case (e.g. shop systems, learning platforms or document management systems). There are commercial systems that are subject to licence fees and licence-free open-source systems, as well as mixed forms of both. Basically, the more precisely you know what you need the CMS for, the easier you can decide and the cheaper it will be.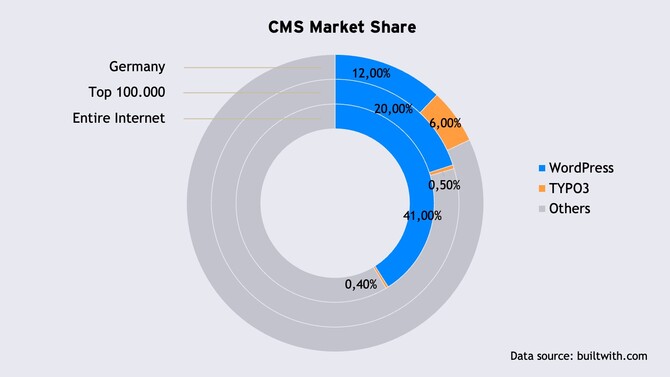 WordPress is used on 40% of all websites (where the used CMS is known), while TYPO3 is used on only 0.5%. However, these figures do not reflect a reliable "market share". Since WordPress is quickly installed and has always seen itself as a software for private and semi-professional websites, an orphaned private blog with a single page weighs just as much in this statistics as an organisation's website professionally created by an agency with over 1,000 pages of content.
At Builtwith, you can restrict the count to sites with the most traffic - in this case, the share of WordPress drops to 20% among the top 100,000 and to 13% among the top 10,000 - while the share of TYPO3 rises with increasing traffic. Even though TYPO3's share is still less than a tenth of the WordPress instances found: without commercially licensed CMS and shop systems, TYPO3 is still in fourth place worldwide (after Drupal and Joomla) and in Germany, with about half as many installations as WordPress, even ahead of Drupal in third place.
Wordpress is not only the most widely used but also the most hacked CMS in the world: In 2021, 96% of all websites that fell victim to hacker attacks were based on WordPress. And this is not only due to the fact that many private blogs are rarely updated with WordPress, half of the WordPress instances cracked in 2021 used current software. While TYPO3 was the target of 0.4% of successful hack attacks in 2017 (only outdated software versions were affected), the system no longer appears in the statistics.
This is certainly because on the one hand TYPO3, as an enterprise content management system, always places a high value on security. On the other hand, many TYPO3 functions are part of the core CMS and do not have to be added as plug-ins, which always represents an additional risk factor. But to be honest, most hackers certainly focus more on a widely used and rarely professionally set up system like WordPress because the same security issue opens vastly more opportunities for successful attacks.
Anyone working with WordPress must therefore take the security issue seriously, remove insecure plug-ins immediately and not wait before updating. If you manage sensitive data on your web site and still want to sleep soundly, it is better to opt for security and use a less widely used system like TYPO3.
The greater the number of installed plug-ins to boost a CMS's functionality, the more performance suffers - the website becomes slow, jerky, in the worst cases even crashes. The fact that TYPO3 is already very powerful out of the box makes it relatively stable. TYPO3 also offers quite sophisticated CMS caching (an additional short-term memory for frequently accessed pages). Ultimately, if you have a lot of traffic, you should work with external caching (e.g. Varnish) or a content delivery network (CDN), regardless of the CMS. The only difference is that with WordPress sites you have to do this much earlier.
While TYPO3 supports multilingualism by default, WordPress requires a plugin for this functionality, e.g. the non-free WPML plugin (99 USD for 90,000 translations). The one-off cost advantage of TYPO3 is negligible here: While with WPML you can configure all the essential language settings yourself, with TYPO3 you first need a technician. TYPO3, on the other hand, offers a sophisticated translation management system that detects changes in the original language and also keeps the arrangement of content objects in sync if desired. For websites with many pages in several languages, TYPO3 therefore has a clear advantage.
In Punkto Nutzerfreundlichkeit hat Wordpress klar die Nase vorn. Denn während das Anlegen und Bearbeiten von Seiten in TYPO3 durchaus gewöhnungsbedürftig ist und einige Einarbeitungszeit benötigt, bietet WordPress mit "Gutenberg" einen Editor, bei dem "What You See Is What You Get" nicht nur für den Text, sondern für die ganze Seite gilt. Das heißt: Anstatt Seitenelemente wie in TYPO3 in einem separaten Editor bearbeiten und beispielsweise Bildgrößen teils manuell in Pixelzahlen definieren zu müssen, können Inhalte in WordPress direkt in einer Vorschauansicht der Website bearbeitet werden. Der Umgang mit Gutenberg erinnert so an Textbearbeitungsprogramme wie Word und ist dadurch schnell und intuitiv erlernbar – was besonders in der Zusammenarbeit mit Ehrenamtlichen ein Plus ist.
Steigt die Menge an Content jedoch, bietet TYPO3 mit seiner Seitenbaumstruktur die bessere Übersicht und macht seine Rigidität zum Vorteil: Durch fest definierte Seitentypen ist sichergestellt, dass Artikel und andere Seiten auch bei einer großen Zahl verschiedener Redakteur*innen einheitlich bleiben.
When it comes to installation costs, WordPress initially has a clear advantage. WordPress offers a huge pool of ready-made layouts (called "themes"). You can simply try them out, buy them cheaply and customise them a little with a few design adjustments. Unfortunately, TYPO does not offer you a comparable inexpensive introduction. TYPO3 requires more installation work and usually technical know-how, if only because of its greater scope of functions.
The more complex the web project, the more the disadvantage of the wider scope of functions turns into an advantage for TYPO3. More plug-ins in WordPress cause more interdependencies and the effort required to integrate additional functions increases. As a result, the installation effort for TYPO3 is lower than that of WordPress once a certain level of functionality is reached.
WordPress vs. TYPO3? Make the right choice for sooner or later!
Essentially, the choice of the right CMS depends on the project goal. A campaign website only has a short runtime of one to two years and can be discontinued after the project ends. Here you don't have to worry too much about long-term maintenance of the system or connections with external software. When relaunching the web site of a complex organisation (e.g. association, NGO, party or union), on the other hand, these aspects are particularly crucial.
This leads to these basic recommendations:
Websites that only have a small amount of content and short project durations can be comfortably set up using WordPress.
If you need special functions such as multilingualism or CRM interfaces, you should rather go for TYPO3.
If you need to attach importance to increased security, e.g. because you work with sensitive data, you'll sleep better with TYPO3.
If you have a small budget, WordPress is definitely your only choice in this comparison.
If you need many different or very custom functions, TYPO3 is often cheaper. If a WordPress quotation costs 25,000 EUR or more, you should definitely check whether using TYPO3 would be cheaper.
If it is mainly full-time staff who work with the system, if there is sufficient budget available and if the requirements of the project point more towards TYPO3, go for TYPO3. Do not succumb to the temptation to save on the relaunch with a WordPress implementation. You risk higher hosting capacity requirements, more cumbersome translation workflows, stress with security and data protection issues. The initial savings are not so high that they are not quickly wiped out by higher running costs.
Volunteers, on the other hand, find it easier to use WordPress, as some are already familiar with the system and others can quickly learn how to use it.