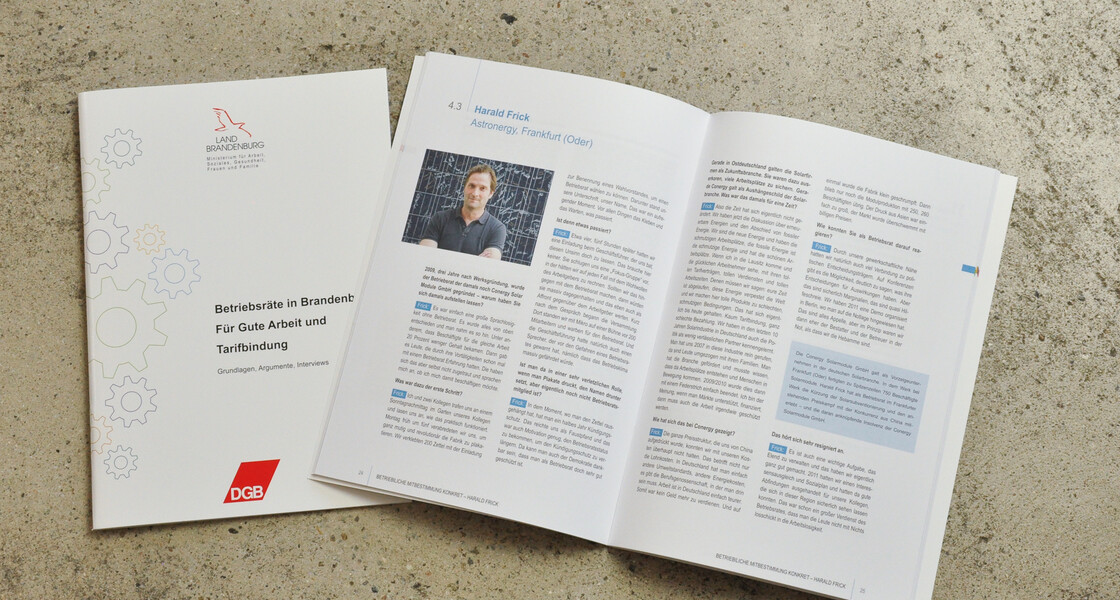 The Brandenburg Ministry of Labour, Social Affairs, Health, Women and Family is also committed to promoting good work for the development of the state. Co-determination in companies is a central labour and economic policy instrument for this purpose.
Together with the DGB, the image brochure "Works Councils in Brandenburg - For Good Work and Collective Bargaining" was published on this topic, which wegewerk helped to develop in terms of content and design. The target group of the publication is not only political actors and the interested public, but also people who deal with the topic of works councils in Brandenburg and beyond.
Positive, appreciative and motivating: the design guidelines
In addition to the corporate design guidelines of the state of Brandenburg, the guiding principle for the design was a relaxed look that presented the content in an entertaining way. The content was about the upcoming works council elections and the relationship between works councils and the management of companies in Brandenburg (social partnership guidelines).
Personal stories bring the topic to life
In order to present this content in an attractive way, wegewerk conducted on-site interviews with works council members in various companies in Brandenburg: What are the challenges in the company? What works particularly well? What impulses has the Social Partnership Directive been able to provide? The edited interviews provide an insight into the very diverse works council activities and demands in the various sectors. The interviews are framed by additional content and photographic material from the MASF as well as statistical data prepared by wegewerk.