ecologic footprint
CO2 footprint calculators put to the test
Five years ago, we tested various online CO2 footprint calculators to find out which one we could recommend to our users. The result back then was that none of them was really satisfactory, not even the #1. Now we have done a new test.
Compared to five years ago, the range of CO2 footprint calculators has fortunately increased significantly. Not only numerous large non-profit organisations, but also more and more small start-ups are trying to give users the opportunity to calculate their personal carbon footprint. Both the design and the user-friendliness have been improved. But whether the colourful tests are really scientifically accurate and take all relevant factors into account is something we tested again this time.
We tried out ten calculators in German and English to present the five best. We used the approach of the Federal Environment Agency as a guide for scientific accuracy. At the same time, the calculators should also be fun: not only accurate, but also entertaining and motivating. If we, as users, get additional tips for everyday life or even direct compensation options - all the better!
Here we present five informative CO2 footprint calculators and their special features.
The best carbon footprint calculators 2021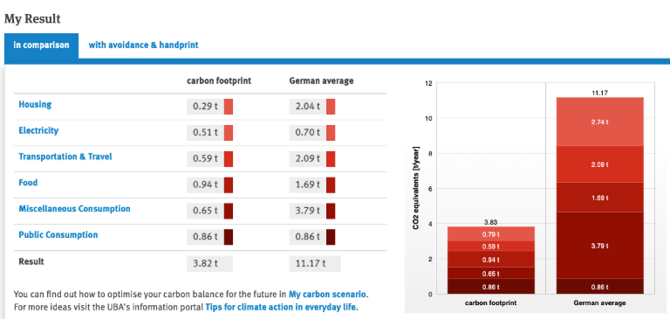 As an official institution for environmental protection, the Federal Environment Agency has created a calculator that sets a high bar especially in the aspect of scientific precision. Since the questions are to be answered with annual data, it requires a little more of one's own calculation work compared to other tests. In return, one receives intermediate results for the individual categories and comparative values to the German average. Exciting: the calculator uses the carbon scenario to calculate how one's own carbon footprint can be improved through certain "actions". It is great that a quick test is offered for people with little time.
Makes fans of graphics and numbers happy - 5th place.
In 2015, this calculator was our test winner. Now, in 2021, it unfortunately can no longer fully convince us: The questions are still precise, but the answer options sometimes make it difficult to decide between two. The design is modern and simple, but unfortunately also somewhat boring. A graphical representation of which categories one consumes the most in and general tips nevertheless make this calculator one of the strongest alternatives among the English-language calculators.
Modern, simple and complete - the WWF calculator does a lot of things right, which is why it's ranked 4th.
MyClimate's calculator takes only 3 minutes to complete and is therefore perfect for test slackers or people who do not like to dwell on unpleasant truths (such as their own climate protection record) for long. Despite its brevity, the test manages to cover all relevant categories. The results clearly show in which area the most Co2 is caused. If you want to go into more detail, you can try a longer test like the one from the Federal Environment Agency.
Brevity is the spice of life - with this calculator, no one has any excuse not to take part - our 3rd place.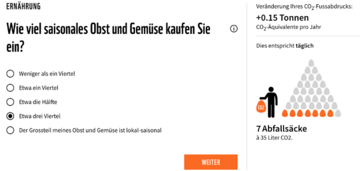 The former 3rd place has moved up to 2nd place. In the meantime, further questions with sufficient answer variations have been added and one already gets a feeling for where the decisive behavioural changes could lie while answering the questions. At the end, the user even gets an evaluation with detailed explanations why the respective behaviour has a positive or negative effect. However, the design is a little disappointing: neither colours nor pictures accompany the test.
Contentwise, this calculator is unbeatable - 2nd place.
#1 Global Footprint Network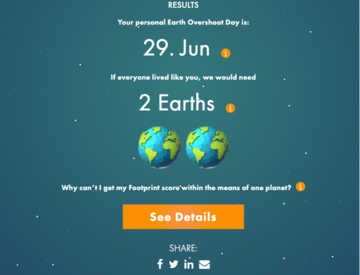 Our favourite calculator differs from the other calculators not only by the colourful animations that give the calculator a playful appeal, but also by the questions that make it possible not only for people from Western civil societies, but also for people living in a wooden hut, for example, to calculate their Co2 footprint. The test takes 10 to 15 minutes, but it is worth it: short information texts explain the facts and users get practical tips in the "Solutions". On an interactive map, everyone can enter personal tips for places and events.
Innovative, colourful and and universal - the calculator we've always wanted - 1st place.
Conclusion: Something for every need!
The selection of calculators is surprisingly good. The short calculators give a good first overview and with the calculators that take a little more time, a detailed analysis of one's own co2 consumption is possible. Both the design and the user-friendliness have been improved. We had a lot of fun testing it!
What else do we wish for?
More practical information!
Some websites already provide tips, but the quantity and quality is certainly still expandable
After the test is before the test!
A community that accompanies you on the way to reducing your footprint would certainly motivate many users.
Link it with apps!
WWF UK offers an app, but unfortunately it is not available in the German app store. It would be great if I could track and update my footprint through an app after implementing measures.